A painting, created by Bronx-based artist Rafaela Santos — with a simple color palette of reds, blues, whites and blacks — draws the eyes immediately when walking into the newly completed architecture studio, Crome Yellow Springs, formerly the church home of the predominately African American First Baptist Church.
An enslaved Black woman is the lone subject, holding her pregnant belly with one hand, and reaching out with her other toward something that the viewer can't see — freedom, perhaps?
The painting, "Her Hope," is part of Santos' exhibition, "Hidden in Plain Site," currently on display in the studio. The show is "an ode" —  to hidden treasures long buried within the structure of the former church, originally called the Anti-slavery Baptist church — including trusses revealed above a drop ceiling, probably installed as part of an earlier renovation effort. The title also speaks to people seeking better lives after fleeing slavery along the underground railroad that ran through this area.
If the studio were still a church, the six-foot-by-nine-foot work, powerful in size and theme, would hang behind the church choir while members sang praises each Sunday morning. The building, redesigned as a creative space for architects, also includes designated exhibition space for visual artists. Santos is the first artist to show work in the space.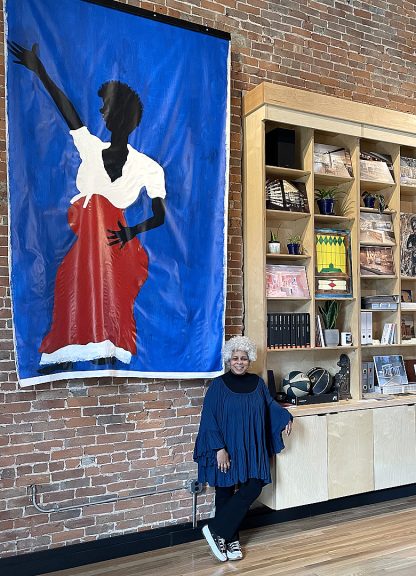 Santos, who is Afro-Latina of Puerto Rican heritage, became aware of Yellow Springs after a friend moved here and suggested Santos exhibit her work in town.
"We came to visit and loved the town. One thing led to another, and my friend said, 'Oh, you should show at The Winds.' That was how the first exhibit [on display at the Winds earlier this year] started," she said.
Santos said she met architect Max Crome while hanging out in Yellow Springs. A friendly conversation resulted in her showing Crome her Instagram page.
"Max saw my work at the Winds, and he loved it," she said.
Crome then asked Santos if she'd be interested in showing her art at Crome Yellow Springs when it opened. He and his business partner, Steve Pitchel, were in the process of renovations at the time.
Continue reading over at Yellow Springs News.