Legendary Blues Singer, Gertrude "Ma" Rainey, Was Born
Known by many as the "Mother of Blues," Ma Rainey could take over any stage with her strong presence and vocals. She was born Gertrude Pridgett on April 26, 1886, in Columbus, Georgia, to Ella and Thomas Pridgett and she was the second oldest of five children.
Pridgett began her professional singing career as a teenager and made her first public performance at the Springer Opera House (Georgia) in 1900. She was able to secure a role in a stage show called "The Bunch of Blackberries," and shortly after, she began traveling with other vaudeville acts. Her extensive travels exposed her to authentic country blues and she began incorporating what she had learned into her song repertoire.
In 1904, Pridgett married comedy and fellow performer William "Pa" Rainey. Pridgett took on the name "Ma" Rainey and the two became known as "Ma" and "Pa" Rainey as they went on tour with Southern shows and cabarets. While touring, Ma Rainey met a young Bessie Smith, who would go on to have a successful career of her own. 
Ma and Pa Rainey separated in 1916, but she continued touring with her own band, "Madam Gertrude Ma Rainey and Her Georgia Smart Sets." Rainey began to expand her reach and entertained the recording industry as an experienced artist.
She recorded her first session for the Paramount label in 1923. That same year she also released "Moonshine Blues," "See See Rider," and "Yonder Comes the Blues." Rainey also recorded with performers such as Louis Armstrong.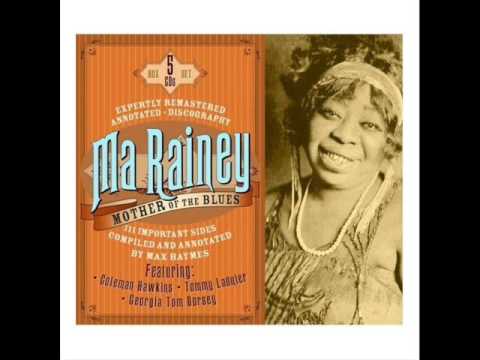 During Rainey's five-year recording career with Paramount Label, she recorded nearly 90 tracks, which typically addressed subjects of love and sexuality. Ma Rainey's lyrics would often include bold and risqué lines about other women, making her one of the most unique performers of her time.
Ma Rainey continued performing until she retired from the music business and resettled in her hometown in 1935. Over the next few years, Rainey spent much of her time managing the two entertainment venues she owned, the Lyric Theater and the Airdome.
The blues legend died on December 22, 1939, and was inducted into the Blues Hall of Fame in 1983 and the Rock and Roll Hall of Fame in 1990.